SEMINAR
ENHANCING THE KNOWLEDGE WORKER
Outline
This seminar explores what it means to be a knowledge worker in the new economy. It is a one day reflection on the special challenges of being a high performance knowledge worker. It is a lively and stimulating combination of presentation, dialogue, knowledge sharing and scenarios aimed at producing greater clarity, insight, and wisdom about the new role and challenges facing knowledge workers. The global knowledge based economy continues to evolve and expand at a rapid rate. As this happens, the nature of work is changing. It is becoming more and more knowledge intensive. Knowledge workers need to know more, to do their jobs effectively. Work life is becoming more complex and chaotic. Knowledge workers are challenged to make business decisions and take positive action in a whirlwind of information noise and pollution. Information overload or information famine, data smog, messaging and communication technologies such as e-mail and voice mail just add to the rising problem of knowledge worker stress. As human capital inputs to business production processes, what they know, and how they act on what they know, is arguably one of the key sources of sustainable competitive advantage. The knowledge worker is a critical link in the knowledge value chain. The knowledge worker is a vital resource for nurturing loyal and enduring relationships with important customers. The knowledge worker is not just an expense item on the balance sheet as in industrial age metrics, but an investment in a firm's intellectual capital and brain power. People are indeed a company's greatest asset. However human capital assets go home every night and voluntarily come back in the morning, carrying what they know. Much of this knowledge and intellect is in the form of hard to articulate tacit knowledge and experience. Corporations have to create environments for knowledge workers that elicit their passion and commitment. Management needs to truly honour and value what they contribute. They need to support informal communities of knowledge workers that collaborate and learn together.

Topics :-
What does it mean to be a "Knowledge Worker" ?
How can you Manage Knowledge better in your work-place and why does this matter today ?
What Is Knowledge ? How does it differ from data and information ?
What's involved in Harnessing Knowledge to improve your personal effectiveness and productivity ?
Continuous Learning is increasingly important as is the ability to unlearn . How can this be done more effectively ?
How can your Time To New Knowledge be reduced ?
Using knowledge for Sense-Making. How can you master change, by making more sense of changes in the work environment ? How can you help your company intercept and interpret signals from the market-place ?
In what way is your work becoming more knowledge intensive ?What are some winning Coping Strategies for dealing with this development ? How can you deal with infoglut and infofamine ?
Why Knowledge Sharing And Exchange is more appropriate than hoarding in this era
How you can increase your Knowledge Value to the enterprise by improving the way you think, by becoming more creative, by getting to know customers better, by harnessing good ideas, by helping your company to become more innovative by leveraging your networks
How you can improve your own Knowledge Competency by identifying gaps, making maps, setting knowledge goals, expanding knowledge relationships
An examination of The Politics Of Knowledge in organizations
How can the Flow Of Knowledge be enhanced in your work environment, since movement is key
How can you more effectively participate in leveraging knowledge residing in Communities Of Interest & Communities Of Practice ?
What are some of the strategies you can use to gain Access to Knowledge when you need it ?
How can you use knowledge to make better quality Decisions ?
How can knowledge support sustainable Development and Growth ,for you and your company ?
Who Should Attend ?
This seminar is designed for front line knowledge workers and for enlightened corporate managers and strategists. In the knowledge-based enterprise we are ultimately all knowledge workers. It is ideal for groups of knowledge workers as it helps them to forge better communication, shared understanding, and alignment.
Why Attend ?
This seminar will enable knowledge workers and team leaders to become more reflective practitioners. It is an enriching, stimulating, motivating and mind-expanding experience. This time out to reexamine their powerful new role in the new economy, equips the knowledge worker with strategies, tools, and techniques for coping with emerging workplace challenges. It also exposes them to the fresh, advanced, new thinking and best practices in knowledge management. It helps them to better understand, interpret, adapt and respond to the challenges emerging from the growth and spread of the knowledge based economy. This seminar is helpful at both a personal and professional development level. Ultimately this seminar is about practice. How to take your knowledge game to a higher level.
Schedule Agenda
7:30 - 8:30 am - Registration & Networking
8:30 - 10:00 - Module 1 - Managing Intellectual Capital
10:00 - 10:15 - Break
10:15 - 12:00 - Module 2 - Knowledge Processes
12:00 - 1:00 pm - Lunch
1:00 - 2:30 - Module 3 - Knowledge & Technology
2:30 - 2:45 - Break
2:45 - 4:00 - Module 4 - Knowledge Community
4:00 - 4:30 - Wrap Up
Benefits
Improved understanding of the knowledge context today
Enhanced sense-making capability in this era of infoglut and infostress
Improved understanding of the role of knowledge-sharing, exchange, and transfer
An enhanced appreciation of the value of creativity and innovation in doing knowledge work
An understanding of the role of intellectual capital, intangible value, and customer capital
A more profound understanding of richer potential ways to contribute to sustainable personal and organizational growth and success
A more explicit appreciation of informal networks in producing positive results, and an understanding of communities of interest and communities of practice
An opportunity to critically reflect upon the appropriate knowledge-worker mindset for these fast changing times
Improved coping strategies for dealing with information overload, stress, accelerated change, and the need for smarter learning and unlearning
An appreciation of forms of knowledge and why explicit management of the knowledge resource if now more crucial than ever
Learn the Top 10 Habits Of High Performing Knowledge Workers
Complete a self-diagnostic Personal Knowledge Profile & Assessment to see how you are doing in the Knowledge Zone
and develop your own Knowledge Compass using several charts such as the example shown below :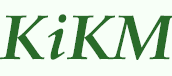 Faculty
Bryan Davis is Founder and President Of The Kaieteur Institute For Knowledge Management in Toronto. The Institute is currently engaged in advanced independent research into e-knowledge markets, knowledge enabling software, knowledge business models, knowledge-based innovation, knowledge pattern recognition. He is currently working on a project to launch an international consortium researching e-knowledge market-places. He has been transforming information, document, and knowledge management theory into practice for over twenty years. Mr. Davis's experience spans the realm of knowledge management, document management, workflow, business process analysis and redesign, and records automation, competitive intelligence, corporate portals, e-business and CRM. . He is a graduate of York University's Philosophy Programme. He was until recently, a Vice President of Knowledge Management Strategies and Research with the Delphi Group Canada. He has previously been an Information & Technology Consultant with the Municipality Of Metropolitan Toronto; Manager Of The Corporate Records Centre for Metro Toronto; Regional Superintendent Records Management Transport Canada (Ontario Region); and Assistant Chief of the Toronto Federal Records Centre, National Archives Canada. He is regularly asked to make presentations at Conferences around the world. He teaches a new Seminar on e-Knowledge Based Innovation. He also teaches a Knowledge Management Course in the University Of Toronto's School Of Continuing Studies, has been an instructor of the Delphi Group's Institute on Knowledge Management, Document Management, and Workflow, and a regular presenter/organizer at Delphi Group Canada Seminars, and Conferences. . He is a Past President Of The Toronto Chapter and National Director of CIIMS, helped launch a Knowledge Management Special Interest Group with CIPS, authored a major Research Report On Knowledge Enabling Software, and been called upon to provide advice to to the Society of Management Accountants of Canada, The Royal Bank, The Centre For High Performance, and the University of Toronto Faculty of Information Science. His clients have included WorldCom, Information Architecture Group, Carana Corporaton, Zurich Life, Sun Life, Sears Canada, Educational Testing Service Of New Jersey, Baush & Lomb, Government Of Puerto Rico, and Hong Kong Productivity Council among many others.
Registration
Dates :
The seminar is usually held Monthly, ( see Posted dates on our web site announcing upcoming events, or contact us ).
Times :
8:30 am - 4:30 pm ( Registration on day one, is from 8:00 am - 8:30 am )
Location :
Downtown Toronto
Venue :
Location details and map will be forwarded upon registration
( Note: On-site seminars and overseas engagements are available by special arrangement)
Registration Fee :
Canadian -: $ 150. 00 plus $ 10.50 (7 % GST) =

$ 160.50

per attendee


US = approx $ 120.00 including 7 % GST ( per prevailing exchange rate)
( Group Discounts Available. Ask. )
Fees Include :

Attendance at the seminar, handbook, lunch and refreshments
Transfers & Substitutions :

If you have pre-registered and are unable to attend, your fee can be applied to the next running of the course, or someone else from your company may be sent as a substitute.
Accomodation :

Upon request, we will be happy to forward a short-list of recommended nearby Hotels.
Cancellation & No Shows :

Attendance can be cancelled up to 10 days before the seminar via written notice.
No-shows are still charged the full registration fee.
How To Register :
By Telephone :
416-651-1837
By Fax : 416-651-2108 ( complete registration form below and Fax back )
By E-Mail : info@kikm.org
By Mail : The Kaieteur Institute For Knowledge Management
67 Alberta Avenue, Toronto, Ontario.Canada .M6H-2R7
Payments : Payment must be received prior to attending the seminar.

Payments can be by Cheque, Cash, or American Express Credit Card
Cheques should be made payable to :- The Kaieteur Institute For Knowledge Management
Paying Using Amex : Complete the Form Below & Fax to 416-651-2108
Paying Using Visa or Mastercard :
VISA and Mastercard payments can be completed via our Knowledge
Agency at Knexa.com . See below for these processing details.


Procedures For Mastercard & Visa credit card processing :-.
An alternate Registration processing route to join the seminar, is go through our Knowledge Agency set up at Knexa.com
Some attendees to previous seminars have used this channel, and it worked fine for them.
( I am also on the Advisory Board for Knexa so it's a trusted relationship ).

The procedures for doing this is as follows :-

1) Please go to www.knexa.com
2) Before you make a purchase on Knexa, you must be a 'Registered User', please click on 'Register' that is located on the bottom line
of the home page.
3)Take a moment to Register ( you will need to enter your credit card information)
4) After you have registered, go back to the home page, www.knexa.com
5) Click on 'Explore Knexas Knowledge Communities'
6) Click on 'Kaieteur Institute For KM'
7) In the 'Featured Items' Section (the scrolling list) you will see 'The Enhancing Knowledge Worker Performance Seminar+Date+2001' - Click on this
8) This will take you to a detailed description page...scroll to the end of this page and click on 'BUY NOW'
9) You will be asked for your Username and Password.
10)The purchase is now complete, you will download a voucher, please take a moment to fill this in. The last step is to either email or
fax the voucher to the Kaieteur Institute For KM.

FYI Our Contact at Knexa.com is :
Ravinder Mlait
Trading Relationship Agent
Knexa.com Enterprises Inc.
email: Ravinder.Mlait@knexa.com
Knexa Global: www.knexa.com
Ph: (604) 682-8485
Fax: (604) 682-7576
Pgr: (604) 686-3387
Toll Free in North America 1-877-330-0338
REGISTRATION FORM - Enhancing Knowledge Performance Seminar Event Date_________ :___________________
Name :
Title :
Organization :
Address :
Tel :
Fax :
( )
E-Mail :
( )
PAYING BY CHEQUE
My Cheque is Enclosed. ( $ + GST )
(GST#873396162 )
For $
PAYING BY AMEX
Charge My American Express Credit Card :

$
Name On The Card :
Card # :
Expiry Date :
Authorized Amount :


Signature
Fax This Form To
Fax : 416-651-2108
or Mail This Form To
The Kaieteur Institute For Knowledge Management
67 Alberta Avenue, Toronto, Ontario, Canada.M6H-2R7.