The Ideas Economy Seminar 1. Toronto. October 30, & Nov 30, 2001. Other Dates TBA.

IDEAS FUEL THE FUTURE !

This is a half-day seminar about Knowledge Management, with a radical difference. We don't get lost in semantics and debates of questionable value. We cut through the normal KM hype and noise. We go straight to the heart of the matter. We put our spotlight, plumb on a subject that is very straight-forward and easy to understand - IDEAS. We use ideas as a simple lens through which we can address common knowledge management issues in the firm. We are all swimming in circulating pools of ideas, all the time. Learning how to swim effectively in these pools can be the difference between sinking and swimming. Our simple proposition is that Ideas are too important a resource today to be left to ad hoc management and chance. Individuals and companies need to approach this subject with greater Insight. Those that have a deeper understanding and play creatively and well with ideas will have a good time. Those that don't won't.

Should You Attend ? Can You Afford To Miss This Rare Opportunity ? Review The Questions Below. Then You Decide

In today's knowledge-driven economy, are Ideas Indeed The New Currency ?

Do you think Ideas Matter to your business ?

How Valuable might great new ideas be for your business ?

Can new ideas that customers value, be Profitable for your business ?

How much direct Attention are your executive leaders paying to how ideas are harnessed and used in your company ?

Do you have a Meritocracy that ensures your top idea generators are being properly incentivized, recognized,
and rewarded ?

Can you truly have a High-Performance organization if ideas are circulating poorly ?

Are there Easy, Simple, Practical, Immediate, steps that you can start taking, to incrementally ensure that the ideas economy in your organization functions optimally ?

Do you really know and understand the source of Supply for the best ideas in your company ?

Are you allocating resources effectively to those area of your company where there is a high Demand for fresh ideas to solve operational problems ?

Is there a need to rethink and revisit the Central Idea(s) that underpin your company's mission ?

Are you adequately protecting the proprietary ideas that are key to the preservation of your company's Intellectual Property ?

Are you adequately keeping track and Measuring the idea system in your company ?

Are ideas flowing so smoothly in your company that there is not an opportunity to improve the steady Flow of great ideas ?

Do you inhabit a Business Ecosystem and Culture that is friendly to new ideas, and sufficiently supports idea innovation ?

Do you think that as an individual ( "You Inc") and as an executive, you could benefit from having deeper Insight into the
inner workings of the Ideas Economy ?

Do you understand the Toxic Pathologies that can be crippling to the ideas economy in your company ?

Do you appreciate the conditions that are Super-Conductive for the gentrification of the neighbourhoods in your company where the ideas economy lives ?
Our Model Enterprise Ideas Economy Architecture - This Heuristic will be fully explained at the Seminar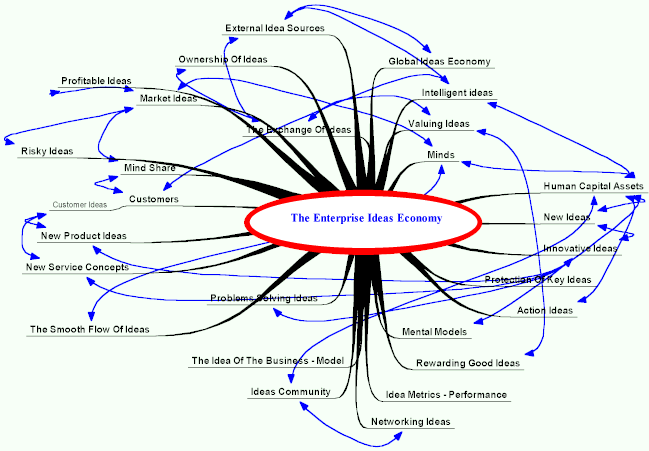 Day One
Schedule
Agenda
7:30 - 8:30 am
Registration, Continental Breakfast, & Networking
8:30 - 10:00
This session will be a mixture of presentation and stimulating interactive discussion. We will address the
above key questions among others. We will also uncover need to know secrets of the enterprise ideas economy system, profiled in the diagram above.

The Ideas Economy Concept Explained.
Ideas Examined. Simple, yet so Powerful.
What is the Enterprise Ideas Economy Concept ? What does it mean for your company ?
What's the architecture of an Enterprise Ideas Economy ?
What's the currency in this market-place ?
What are the key supporting Processes ?
What can leaders do to support them ?
What roles do key actors play ? What are the rules that they live by ?
What technologies can enable the system ?
What community behaviours and conditions are supportive of and conducive to effective idea circulation ?
How can improving the Enterprise Ideas Economy, serve to reduce friction, lower costs, improve efficiency, shrink process cycle time, improve adaptation to change, assist innovation, enhance customer responsiveness, enhance quality, assist competitiveness and profitability, improve knowledge worker productivity and morale, and facilitate new business development, and generate profit ?
10:00-10:15
Break
10:15 -11:00
Presentation & Discussion Of Our 10 Step Action Guide To Enterprise Ideas Economy Effectiveness
11:00 - 11:45
A Group Exercise To Apply Learning to relevant Situational Contexts
11:45 - 12:00
Conclusions & Wrap-up
Who Should Attend

CEO's, Executives responsible for leading e-knowledge and e-business initiatives in their organizations, knowledge champions, knowledge strategists, knowledge architects, knowledge managers, system integrators, CKO's, CIO's, CFO's, VP's e-Business, Marketing, Sales, R & D, HR, Directors Of Education, Intellectual Property lawyers, software developers, Venture Capitalists, and others.
Why Should You Attend ?


1. This is a rare and unique opportunity to learn about a knowledge management approach you can leverage right away
2. This event is carefully crafted to provide you with a well-rounded, comprehensive, objective perspective on a central
challenge that applies to all individuals and companies - how to harness ideas well.
3. It's a great investment in your personal professional growth and your organization's future ability to carry out knowledge-based innovation.
4 We specialize in this subject and therefore are well positioned to ensure valuable knowledge networking and transfer
5.Others who have been participated in our events, relate that they have had net positive learning experiences
6. You will gain useful Insights into everyday concerns of the firm
7. Based on the rich content, there is a high probability you will have a stimulating learning experience
8. You will be able to use and apply the knowledge you gain, to read and interpret knowledge moves and trends, craft better knowledge strategy, better communicate and sell a knowledge initiative in your organization, profit from new ideas.
9. We are the first Institute in the world to offer a seminar properly introducing this topic. You won't find it offered elsewhere.

Previous attendees at Kaieteur Institute Events have included senior executives from such organizations as The Royal Bank,
Worldcom, DMR, Carana Corp, KM Ventures, Information Architecture Group, Dextrus, Aptech, Enbridge, Liberty Consulting Inc, Sears Canada, Zurich Life, PriceWaterhouseCoopers, Lotus, IDC, Microsoft, Ontario Hospital Association,
Humber College, University Of Toronto, The Hong Kong Productivity Council, Haven Knowledge Systems, Baycrest,
ParallelSpace Corporation, and many others.
Previous Co-Sponsors of our events have included AltaVista, Excalibur Technologies, Books For Business, Fast Company, Know Inc,Gutenberg Inc, The Centre For High Performance, KMWorld, Entovation International, Brainspace, Crucible Management Solutions, Engine-X, KnowledgeInc, among others. Also see e-Knowledge Markets Consortium co-sponsors at http://www.kikm.org/portal/markets.htm
Lead Faculty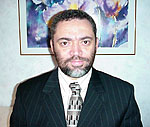 Bryan Davis is Founder and President Of The Kaieteur Institute For Knowledge Management in Toronto. The Institute is currently engaged in advanced independent research into e-knowledge markets, knowledge enabling software, knowledge business models, knowledge-based innovation, knowledge pattern recognition. He is currently leading an international consortium researching e-knowledge market-places. He has been transforming information, document, and knowledge management theory into practice for over twenty years. Mr. Davis's experience spans the realm of knowledge management, document management, workflow, business process analysis and redesign, and records automation, competitive intelligence, corporate portals, e-business and CRM. . He is a graduate of York University's Philosophy Programme.He was until recently, a Vice President of Knowledge Management Strategies and Research with the Delphi Group Canada. He has previously been an Information & Technology Consultant with the Municipality Of Metropolitan Toronto; Manager Of The Corporate Records Centre for Metro Toronto; Regional Superintendent Records Management Transport Canada (Ontario Region); and Assistant Chief of the Toronto Federal Records Centre, National Archives Canada. He is regularly asked to make presentations at Conferences around the world. He teaches a new Seminar on e-Knowledge Based Innovation. He also teaches a Knowledge Management Course in the University Of Toronto's School Of Continuing Studies, has been an instructor of the Delphi Group's Institute on Knowledge Management, Document Management, and Workflow, and a regular presenter/organizer at Delphi Group Canada Seminars, and Conferences. . He is a Past President Of The Toronto Chapter and National Director of CIIMS, helped launch a Knowledge Management Special Interest Group with CIPS, authored a major Research Report On Knowledge Enabling Software, and been called upon to provide advice to to the Society of Management Accountants of Canada, The Royal Bank, The Centre For High Performance, and the University of Toronto Faculty of Information Science. His clients have included WorldCom, Information Architecture Group, Carana Corporaton, Zurich Life, Sun Life, Sears Canada, Educational Testing Service Of New Jersey, Baush & Lomb, Government Of Puerto Rico, and Hong Kong Productivity Council among many others.

He is a member of the Advisory Board of Knexa.com, an e-knowledge exchange enterprise with a formidable brain-trust that includes such world-class experts on Intellectual Capital as Dr. Nick Bontis and Leif Edvinsson.

He is a regular presenter on this topic :- examples are
September 2000 - KMWorld, Santa Clara, California http://www.kmworld.com
January 2001 - 4 th World Congress On Intellectual Capital, Hamilton, Ontario. 4th World Congress on the Management of Intellectual Capital
February 2001 - KMCluster, San Francisco http://www.kmcluster.com
May 2001 - SCOAP, Ottawa, Ontario http://www.scoap.com/
May 2001 - Canadian Information Processing Society KM-SIG, Toronto, Ontario. http://www.cips.ca/toronto/sigs/sigkm.htm
October 2001 - 3rd Annual Knowledge Management Canada - Creating Value through People-Centric Processes
January 2002 - 5th World Congress on the Management of Intellectual Capital
Venue

Chelsea Mews 386 Huron Street, ( & Sussex ) Toronto, Ontario M5S 2G6, CANADA

Travel & Accomodation

Ask For Travel Directions

For Accomodation - see - www.toronto.com ( we suggest Hotels along Bloor Street, such as The InterContinental and
The Comfort Inn ) or contact us for further suggestions.

Registration Information

Registration Fee :
Canadian -: $ 300. 00 plus $ 21.00 (7 % GST) =

$ 321.00


(US = $ 200.00 plus 7 % GST = $ 214.00 )
( Group Discounts Available. Ask. )

Fees Include :
Attendance at the seminar, copy of slides

Transfers & Substitutions :
If you have pre-registered and are unable to attend, your fee can be applied to any subsequent running of the seminar, or someone else from your company may be sent as a substitute.

Cancellation & No Shows :
Attendance can be cancelled up to 10 days before the seminar via written notice.
No-shows are still charged the full registration fee.

How To Register :
By Telephone : 416-651-1837
By Fax : 416-651-2108 ( Please Complete registration form below, and Fax back to 416-651-1837 )
By E-Mail : info@kikm.org
By Mail : The Kaieteur Institute For Knowledge Management
67 Alberta Avenue, Toronto, Ontario.Canada .M6H-2R7

Payments : Note that Payment must be received prior to attending the seminar.
Payments can be by Cheque, Cash, or American Express Credit Card
Cheques should be made payable to :- The Kaieteur Institute For Knowledge Management

Paying Using Amex : Complete the Form Below & Fax to 416-651-2108

Paying Using Visa or Mastercard :
VISA and Mastercard payments can be completed via our Knowledge Agency at Knexa.com . See below for these processing details.


Procedures For Mastercard & Visa credit card processing :-.
An alternate Registration processing route to join the seminar, is go through our Knowledge Agency set up at
Knexa.com
Some attendees to previous seminars have used this channel, and it worked fine for them.
( I am also on the Advisory Board for Knexa so it's a trusted relationship ).

The procedures for doing this is as follows :-

1) Please go to www.knexa.com
2) Before you make a purchase on Knexa, you must be a 'Registered User', please click on 'Register' that is located on the bottom line of the home page.
3)Take a moment to Register ( you will need to enter your credit card information)
4) After you have registered, go back to the home page, www.knexa.com
5) Click on 'Explore Knexas Knowledge Communities'
6) Click on 'Kaieteur Institute For KM'
7) In the 'Featured Items' Section (the scrolling list) you will see 'The Enterprise Ideas Economy Seminar+Date+2001' -
Click on this
8) This will take you to a detailed description page...scroll to the end of this page and click on 'BUY NOW'
9) You will be asked for your Username and Password.
10)The purchase is now complete, you will download a voucher, please take a moment to fill this in. The last step is to
either email or fax the voucher to the Kaieteur Institute For KM.

FYI Our Contact at Knexa.com is :
Ravinder Mlait
Trading Relationship Agent
Knexa.com Enterprises Inc.
email: Ravinder.Mlait@knexa.com
Knexa Global: www.knexa.com
Ph: (604) 682-8485
Fax: (604) 682-7576
Pgr: (604) 686-3387
Toll Free in North America 1-877-330-0338
Registration Form The Enterprise Ideas Economy Seminar Event Date :___________________
Name :
Title :
Organization :
Address :
Tel :
Fax :
( )
E-Mail :
( )
PAYING BY CHEQUE
My Cheque is Enclosed. ( $ + GST )
(GST#873396162 )
For $
PAYING BY AMEX
Charge My American Express Credit Card :

$
Name On The Card :
Card # :
Expiry Date :
Authorized Amount :


Signature
Fax This Form To
Fax : 416-651-2108
or Mail This Form To
The Kaieteur Institute For Knowledge Management
67 Alberta Avenue, Toronto, Ontario, Canada.M6H-2R7.